Meet the Heart Foundation Walking Team!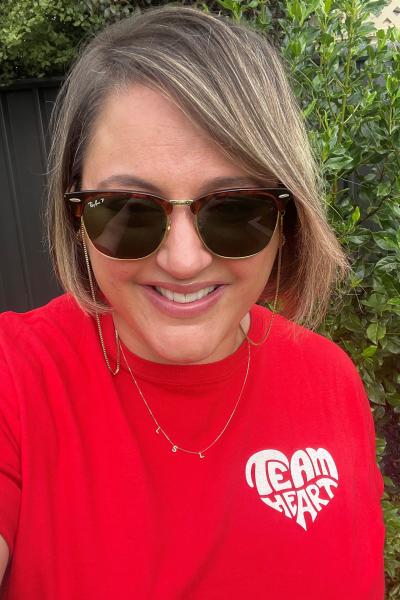 Name: Teresa Gadaleta
Job Title: Senior Walking Program Officer
State: SA
My role is to lead the Heart Foundation Walking team – an awesome, fun bunch who are committed to getting more people walking more often through the program, whether in groups or by signing up to a Personal Walking Plan. We work together to support our walking community, get more Australians involved and ensure we are continuously improving the program. I also coordinate our Active Australia Innovation Challenge which awards $10,000 grants to schools, councils, universities and community groups to get their physical activity projects underway.
Most of my spare time is spent with my husband and two children – Lucy (9) and Leo (7). They play school and club soccer, as well as basketball, so I chauffeur them to training and games and am their biggest (and loudest!) cheerleader. We enjoy socialising with friends and our extended family of grandparents, aunties, uncles, nieces and nephews. In my downtime I love reading, pilates, being at the beach, movies and hanging out with my best girlfriends.
I squeeze in a walk whenever I can, especially during the week to break up my work day. It's a perfect time to clear my head, get some thinking done, and enjoy fresh air out of the office. Otherwise we walk as a family to the local playground or basketball court, or along the esplanade – with an ice cream.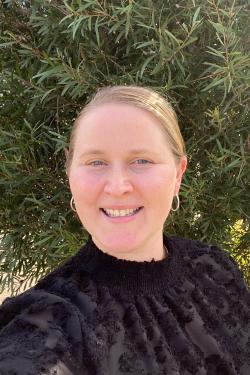 Name: Elizabeth Calleja
Job Title: Senior Advisor, Physical Activity
State: NSW
As the Heart Foundation's National Physical Activity Advisor, my day can be very broad and busy. My main role is to work on the national strategy for the Heart Foundation, and how physical activity supports the lives of Australians at risk of and living with heart disease. This includes government advocacy for physical activity and the walking program, working across the organisation on physical activity messaging for all of our programs and campaigns plus supporting the Walking Team. I support the team to ensure we have the best program for Australians by making sure we always have the most up-to-date messages for the community by using international and national clinical guidelines and research on physical activity. I also work with health professionals and their organisations to promote Heart Foundation Walking to get the message out to community by those who provide care in the clinical setting.
In my spare time, I love anything related to being active. I enjoy taking my kids to sport (soccer in winter, swimming in summer) and participating in my own exercise which includes walking, spin class, yoga, weights, the gym and an occasional Zumba class (when I feel like shaking it up).
I love walking with my dog, Zeus. He is my walking buddy and my little personal trainer. We walk my kids to and from school on the days I work from home. My favourite walk is in Western Sydney Parklands. Nothing beats walking outdoors with the birds chirping (I love listening to the rainbow lorikeets and bell birds) and the fresh morning air on your face. I always change my walking path just for something new, and occasionally do a 'flower walk', where I take photos of beautiful flowers that I find on my walking route on an easy walk day. I am definitely competitive with myself – I wear my Apple Watch on each walk (or cycle) to check my heart rate, time and steps for the day to make sure I am walking my way to be healthy each day.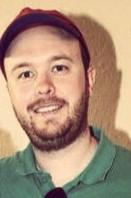 Name: Jordan Forrest
Job Title: Customer Service Officer, Walking
State: SA
My role involves helping people with any query they might have about joining an existing walking group, starting their own group or maintaining their current group's records and attendance logs. I also take care of the walking program's recognition and retention strategies.
I enjoy spending my spare time with my wife and our twin daughters Hazel and Mae. We all enjoy visiting different parks and playgrounds, trying out new cafes and spending time with our extended families. I also enjoy playing and watching all different kinds of sports including soccer, cricket and Australian rules football.
I enjoy taking our dog Alfie for walks every day around our suburb in the Adelaide hills. We often walk through the Belair National Park, which is right on our doorstep. I feel very lucky to be able to see kangaroos, emus and koalas on my walks all within a very short distance of home.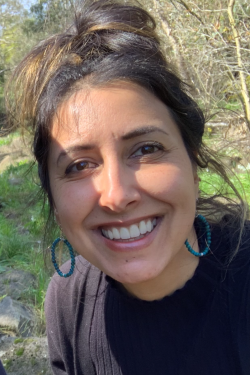 Name: Tara Henderson
Job Title: Walking Program Officer
State: VIC
As a Program Officer, I work with our Host Organisations to set up and support local walking groups in their community. I also attend events and present to various groups to promote Heart Foundation Walking. I assist our network of participants in developing events and launches for their walking groups and strategies to grow their groups through local promotion. I always try to attend community events where I can, and love the opportunity to connect with our walkers.
There are also many day-to-day activities relative to our database, such as updating group details, assisting participants in their administration, and supporting enquiries and opportunities from other areas of the business. And that's just the tip of the iceberg really – it's a very busy role with many things going on at once, which is what I really enjoy about it!
I enjoy keeping fit, and spent many years working full-time in the fitness industry. I continue to teach classes on the weekend, which is a bit of a hobby – that pays! I get a lot out of working with people and seeing them have a great time improving their lives through being active. I have two gorgeous young boys who keep me busy, and love spending time with them, either being out and about or hanging at home.
My mum never had a car, so growing up we walked or took public transport everywhere. And to this day, walking is my favourite mode of travel! I can struggle with the motivation to do a recreational walk, and love to have destination and purpose for my venture. So an ideal walk for me is around 20 minutes up to the shops, and a couple of weighty grocery bags in my hands for the brisk walk home. I also live near a fabulous walking track along the Merri Creek (Melbourne) so when I need to clear my head or connect with some greenery, I head down there for some mindful walking.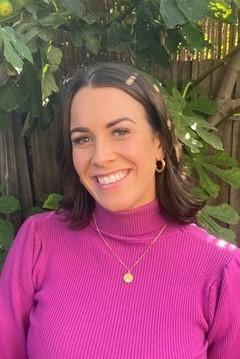 Name: Maddy Salmon
Job Title: Walking Program Officer
State: VIC
My role involves helping more people all around Australia to get walking and active, whether that be through our Heart Foundation Walking groups, Personal Walking Plans or Active Australia Innovation Challenge. Some of my day-to-day tasks involve assisting to set up new walking groups, attending walks and events, working on ways in which we can improve the program, updating the blog and website and summarising our monthly data – to name a few! We have a fantastic team that works closely with one another, collaborating across different projects. One of my highlights to date was attending a conference in Brisbane in May when the team, whose members work around the country, got to meet each other in person.
When I'm not working I love searching for the best food and coffee in Melbourne, reading, vintage shopping, spending time with friends and family, going to F45 classes, swimming, scuba diving and skiing. I'm always looking for a new adventure or hobby and love meeting new people.
I try to fit walking into my everyday life and avoid driving where possible. My favourite way to walk is hiking, having done some fabulous hikes around the world including Everest Base Camp, Bobotov Kuk in Montenegro, Mount Merapi in Indonesia and Ben Nevis is Scotland. There's nothing like the achievement of making it to the top!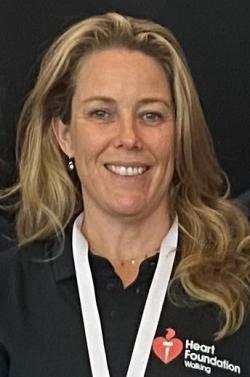 Name: Michelle Marshall
Job Title: Walking Program Officer
State: NSW
My role looks after the program across all of Australia and is mostly behind the scenes. Any day could involve working on a new marketing campaigns so we can reach more people, managing different aspects of the Active Australia Innovation Challenge (where we award multiple $10,000 grants so communities can be more active), managing the team's budget and keeping all of our supplier contracts in order. I work closely with the other Program Officers to ensure we are constantly improving the experience for our volunteer walk organisers, our group walkers and our Personal Walking Plan walkers.
I have a young family so a lot of my spare time is spent with them either watching them play sports, or having some family time at the beach or local park. I love exercising and mix up what I do each week to keep it interesting, alternating between Pilates, yoga, walking, swimming squad, sprint training, high intensity training or dancing.
We are lucky enough to have a treadmill at home, so if it is raining or too dark to go outside, I walk on the treadmill while watching my favourite Netflix series. Whenever possible though, I get outside and walk in local parks, around my suburb, or along the coastline. What I do all depends on how much time I have, so sometimes I will do a few smaller walks if I can't fit in one long one. At work, I encourage walking meetings and we have a lunchtime walking route through the Sydney Botanical Gardens which is just beautiful and always worth it. I always try to get my 10,000 steps per day, and if I miss it, I will try to catch it up later in the week.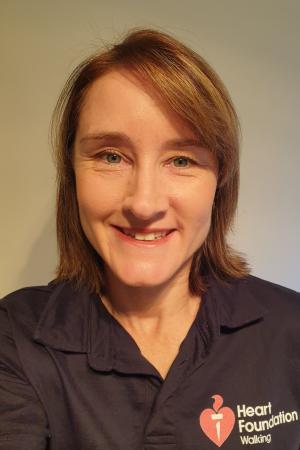 Name: Anita Cromb
Job Title: Walking Program Officer: Local Coordinator – Heart Foundation Walking, Brisbane
State: QLD
I am a Local Coordinator for Heart Foundation Walking groups in Brisbane, supported by Brisbane City Council. My role is to promote and support the Heart Foundation Walking program locally and recruit and support local Walk Organisers. I enjoy hosting walk events that enable our groups to come together and meet up a number of times a year. I also enjoy hosting regular Walk Organiser meetings to discuss program news and activities, and brainstorming new ideas for local promotion. Being able to help support our fabulous Volunteer Walk Organisers to promote and grow their groups is what I enjoy most in my role. I especially love hearing about beautiful stories of newfound friendships, positive changes in health, and our program being the catalyst for connecting people more socially to their communities through our walking groups.
In my spare time I enjoy bush walking and camping with the family, bike riding, playing tennis, and watching my 2 children enjoy their activities which currently include tennis, swimming, ninja warrior, gymnastics and dance.
I fit walking into my day through active travel to work and school whenever possible, bush walking, family walks to the local park, and walking events throughout the year.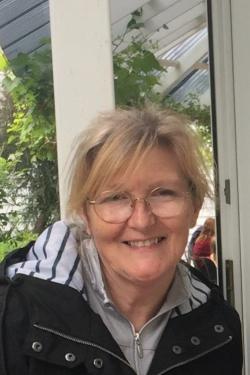 Name: Vicki Fox
Job Title: Walking Program Officer
State: TAS
My role involves supporting existing Walk Organisers and Local Coordinators and trying to grow the participation numbers in the HF walking groups across Tasmania. Day-to-day I answer emails and phone calls, have face-to-face meeting ups and go for lots of walks!
In my spare time I am very active. I enjoy playing squash, pickle ball, kayaking, and bushwalking.
I am an avid walker, fitting it into my daily life whenever possible. We are lucky enough to live close to the beach and do lots of walks along the beach – jacket on…jacket off!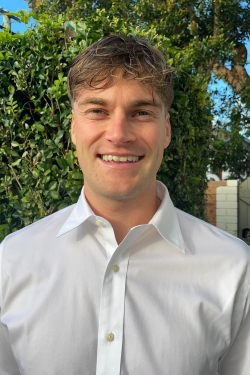 Name: Connor Chadwick
Job Title: Campaign Lead
State: NSW
I am lucky enough to work on all things marketing for the Walking Program, with our goal to get as many people in Australia walking as we can. My day means making sure we are doing exactly that. We have a great team who are all full of ideas and it's my job to help bring these to life, for our current and future walkers.
When I am not busy helping people get walking, I am usually busy trying make us much of my free time as possible. I love to stay active and am a regular at the gym, while my love for football (soccer) still burns strong and I play once a week. I try my hand at tennis, but remain a rookie after all these years. I'm obsessed with movies, space and time and all things creative.
Walking really is underrated. I feel when I am moving my mind works better too, so I try to walk at least once a day, whether I am at work or at home. I miss walking my family dog Hudson, although it was usually him walking me!